Are we booking a DJ or a live band for our wedding? Perhaps this is one of the most difficult questions for brides and grooms. Both have their advantages. In this article, we explore the pros and cons of both options.
A DJ of a band for your wedding?
Traditionally live bands were hired to play at weddings. In the 80's and 90's the disk jockey evolved from a record playing persona on the radio and in night clubs, to a mobile DJ who travels the nightly roads with a van full of gear to play at parties and weddings. Over time this specific breed of DJ's became increasingly more professional and gained more and more market share on the expense of live bands and musicians. Today in Western Europe about 2/3 of all weddings have a DJ for the dance party.
But this is by no means because a DJ is the better choice. Both DJs and live bands have their own qualities and it is primarily a decision based on personal preferences.
There are however a few pros and cons you should consider in order make an educated decision.
Live band
Pros:
The 'live' sound. There is nothing that can replace it.
The enticing effect of live artists performing on stage.
Cons:
Songs and genres are limited to what the band can play.
Most bands sound very loud in smaller rooms.
Bands take breaks. It will be hard (if not impossible) to keep the energy up and the dance floor filled until the next set starts.
When the band is finished, it's not always the time you want the party to end. What to do with the remaining time?
Good bands are usually more expensive than good DJs.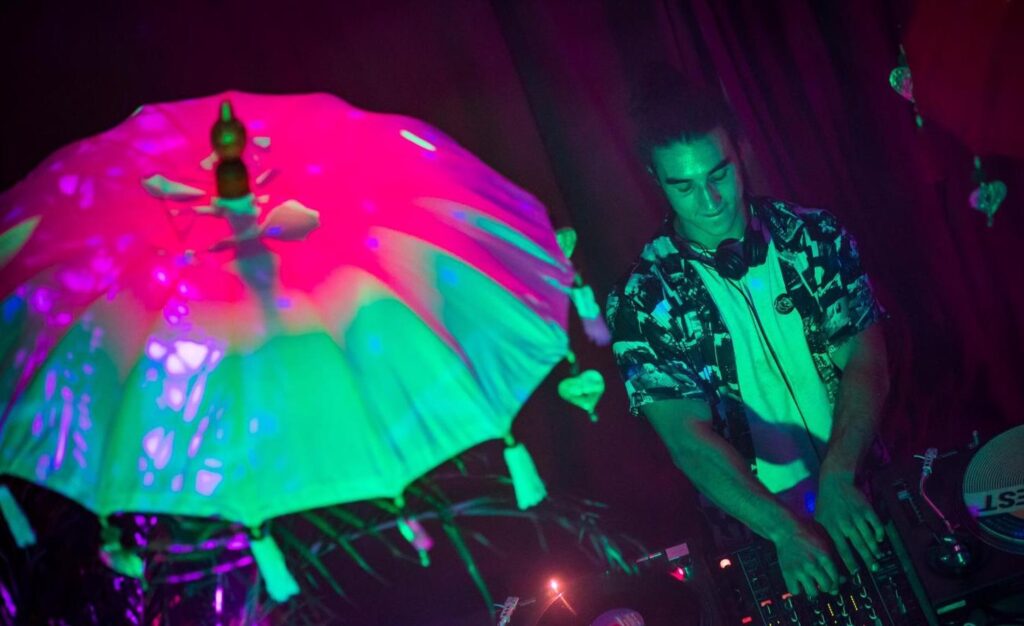 DJ
Pros:
A DJ can basically play anything you like, including the latest hits and is capable of adjusting the music instantly when required.
A good DJ will always control the volume (or can be asked to play at a lower volume).
DJs don't take breaks.
A good DJ is usually less expensive than a good band.
Cons:
A DJ can never match the energy of live music.
Best of both worlds
In recent years it has become customary to hire a DJ in combination with a live performer, like a saxophone player. This adds the desired live element to the party without losing on the versatility of the DJ. According to international wedding specialists, today's trend is to take this concept even a step further by combining a partial or complete band with a DJ. The effects are spectacular! The deep bass drums from a modern club track with the vocals of a live singer, the sound of an acoustic guitar and the rhythmic rolls of a percussionist create a sizzling atmosphere that will definitely get the dance floor filled. Basically anything is possible nowadays, so if you don't want to choose between a band and a DJ and it fits within your budget, the sky is the limit!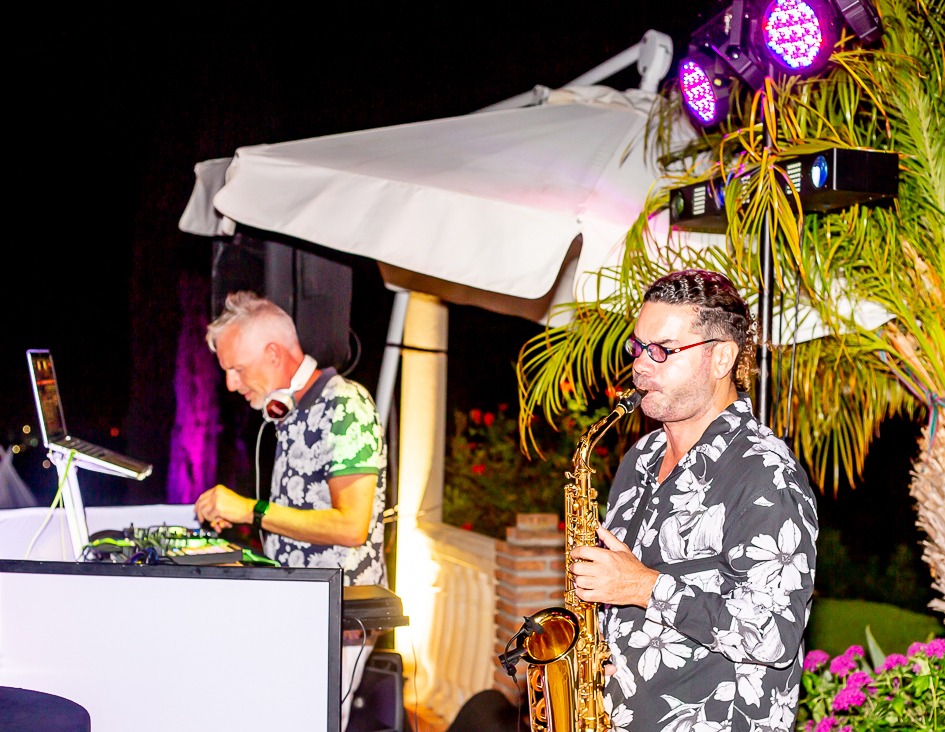 At MOOOV Event Services we work in close relationships with many live musicians, singers, and artists so we'd be happy to discuss the possibilities with you.
---
In the next episode, we will discuss how a DJ can enhance the different parts of your wedding day.

---
About the author
Alexander is a DJ and entrepreneur of Dutch origin, living in Spain since 2015. He is the founder and owner of MOOOV Event Services, a premium DJ and entertainment service.
Being located near Marbella at the Costa del Sol in Andalucia, MOOOV Event Services is specialized in international destination weddings in Spain. With a broad network of wedding planners, venues, musicians, DJs and suppliers, MOOOV Event Services offers high-quality services to cater to any kind of wedding from exclusive boutique weddings to high-profile luxury weddings with hundreds of guests.
MOOOV Event Services is known for its signature DJ shows. The beautiful all-white DJ shows have a stylish, premium appearance. Perfect for weddings. We offer live musicians and artists as well as many add-ons like starlit dance floors and lighting effects.
MOOOV Event Services works with protocols and professional planning tools to guarantee a worry-free preparation and execution of the wedding party.
We take pride in creating a high level of confidence between us and our clients and we go the extra mile to ensure that you will have a most satisfactory experience with us.
Are you planning a wedding in Spain? Then you might be interested in receiving a bespoke non-committal quotation? Just click here and you'll receive one within 24 hours.