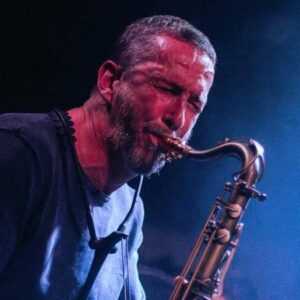 Passionate professionals
There is no better way to take your party to a higher level than with a live performance. We have selected a few exceptional artists for you, who bring a high-quality performance, each in their own unique style.
These acts can only be booked via MOOOV Event Services so get in touch with us to check availability and prices.
Spanish classics and today's hits with a Spanish twist.
A male guitar/vocals duo with a vibrant repertoire of Spanish classics (Gypsy Kings) and remakes of contemporary hits. Ideal for any event where you want to treat your international guests with a Spanish touch.
Setting the mood and accentuating the highs.
Robbie Evans is a skilled and experienced saxophonist in various formats such as solo, duo, small group, full-band and with DJs.
Having worked throughout Europe for over 15 years, Robbie Evans has worked with high-end weddings, private events, corporate clients and festivals.
Robbie couples this with a lively, fun, professional personality with excellent communication and planning. Can be hired as a solo act or with a full sound and light show – complete with DJ or band. 
As a professional composer and performer, Robbie Evans' work has been featured on prime time TV, radio and, his most recent composition work, in collaboration with keyboard player Gilbert Gabriel (1980s band Dream Academy) featured in a film that reached no.1 in the New York Times film listings. 
Robbie Evans + DJ ALEX
Robbie Evans works in collaboration with the renowned Costa del Sol DJ, DJ ALEX, having built a diverse repertoire over many years, varying from laid-back jazz and Latin rhythms to upbeat, energetic house, party music, and beyond. This sought-after combination of sax & DJ is a perfect highlight for corporate events, weddings and private parties.
Our specialty: DJ & Live Act
We believe that music should set the mood at any party. As background music and to dance to. It should always be there without being intrusive or disruptive. It should just be right.
Therefore, one of our main focus points is to create a continuous musical flow throughout the day, without sudden drops, peaks, silences or anything else that kills the vibe. When working with live musicians, this can be particulary challenging.
Therefore MOOOV has developed some unique in-house DJ & Live Acts. To have a DJ and a sound engineer on site gives us full control over the sound and guarantees the best possible experience for your guests.
Check out the MOOOV DJ & Live Acts here.