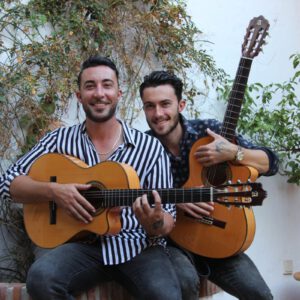 Party music with a Spanish twist
Two guitars and two vocals

Energetic, charming, vocal harmonies

Spanish, rumba, flamenco, and Latin remakes of modern pop songs.

For ceremonies, cocktail receptions, and parties.
Two brothers, Tim and Jay… A perfect duo for weddings, private parties and corporate events. Their enticing rumba-like sound with flamenco accents varies from romantic ballads to uplifting, energetic dance tunes.
Both Spanish classics and remakes of nowadays radio hits. Ideal to add a Spanish touch to your event.
See the video impression below or click here to listen to a fragment of 'Cariño' and here to a fragment of 'Playa Carmen'.
BIO
Tim and Jay, two brothers originally from Blaricum, Holland, moved to the south of Spain with their parents at a young age. While living in Andalusia, they were exposed to the gipsies of Málaga and flamenco music. This inspired them to start playing the guitar and learn to sing in the typical rumba style, which was made famous by the Gypsy Kings.
Their musical influences extend beyond flamenco music and include artists such as Michael Jackson, Paco de Lucía, The Beatles, and Charles Aznavour, but the Gypsy Kings remain the greatest influence on their style.
In 2017, the Gypsy Brothers had a modest summer hit in the Netherlands with the song 'Chocolate', and they also performed on Dutch television on a show hosted by Paul de Leeuw.
Today, the Gypsy Brothers are known for bringing a Spanish touch to any event, whether it's playing subtle guitar for a ceremony, providing relaxing background music for a reception, or igniting a party with their high-quality entertainment.
Next to booking them as an independent act, it is also possible to book The Gypsy Brothers together with a full MOOOV DJ show. This way you get the unique sound of this duo embedded in a night-long musical program provided by a professional DJ
The Gypsy Brothers at your next event?