This is the first article in a seven-part series to cover everything you need to know if you are looking for the perfect DJ for your wedding.
Finding The Perfect Wedding DJ
In the series we will answer questions like:
When you should start planning for a DJ and entertainment
What works best for you, a DJ or a band, or maybe both?
Do you want your DJ to just perform for the dance party, or for the whole day?
What you should definitely ask your aspirant DJ.
What is the cost of a DJ and what do you get for it.
What are the typical practicalities that come with a wedding in Spain?
This, and much more, will be talked about in the next chapters of this series.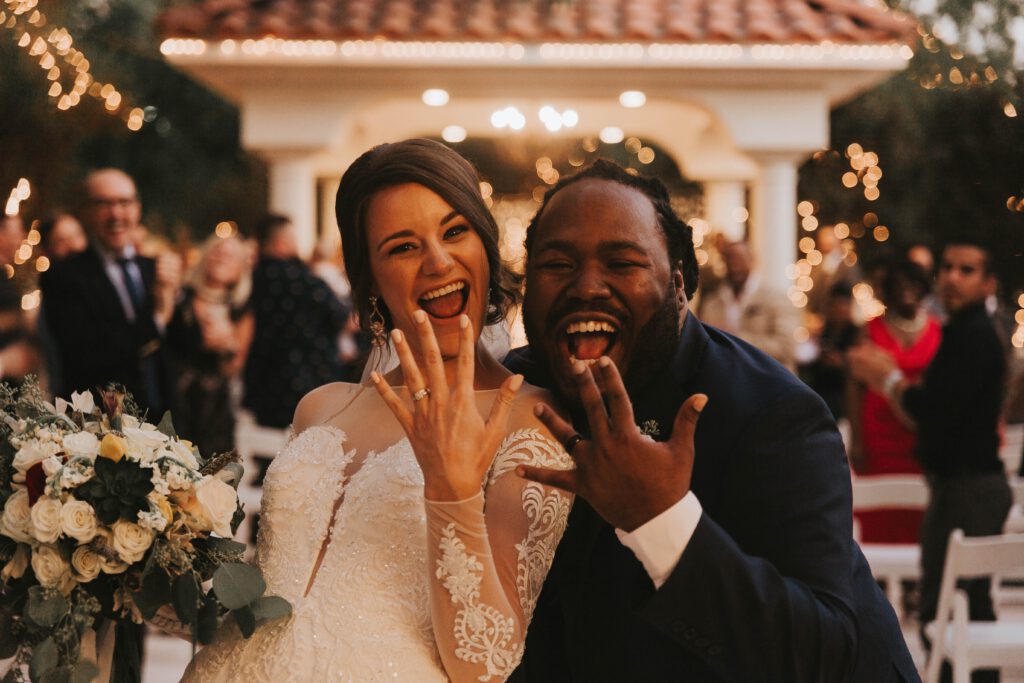 Popped!
The big question is popped and someone said YES! Congratulations! This marks the beginning of a huge new chapter in your lives, starting with an exciting and sometimes rather overwhelming route towards the BIG DAY. Many decisions have to be made and many hard nuts must be cracked to get everything ready in time to celebrate the sacred alliance between you and your going-to-be husband or wife.
You will find many ways to get advice and directions to make this a smooth and fun ride. An Internet full of helpful websites and a world full of professionals to help you find the right rings, dress, cake, bouquet, invitation cards etcetera…
Be well prepared so you can fully enjoy your big day
This blog aims to help you to find the right DJ for your wedding party. If you choose a DJ and not a band, that is. But more on that later.
As a professional wedding DJ, I have spoken with hundreds of wedding couples about their perfect wedding party and I learned that there are some common misconceptions and general ignorances about the concept of hiring a wedding DJ.
And this can lead to disappointments… Because wouldn't it be a shame if, for whatever reason, the dance party is not the grand finale that you had in mind? After all, this day, full of symbolism and ceremony, ultimately cumulates into this climax of festive joy and excitement. This is when all the tension is released, the tight shoes are kicked off, the bow ties are untied and where memories are made! 
How can you make sure that after many years, your beloved family and friends will still be speaking about your wedding as that beautiful day with that awesome party at the end?
The secret, as always, is in the preparation. And this blog series is trying to help you with just that. Because with the right information you can ask the right questions, resulting in a well-prepared DJ and a mind at ease. So you can fully enjoy and celebrate YOUR party together with your loved ones!
A wedding in Andalusia
Most of the information, advice, and tips in this blog series apply for wedding parties in general, but since my company, MOOOV Event Services is based near Marbella in Andalucia, Spain, we have a particular interest in those who have decided to celebrate their wedding here in the sunny, passionate and warm-hearted south of Spain. So in the last chapter, you will find some specific advice for destination weddings here at the Costa del Sol or inland Andalucia.
I wish you a smooth and relaxing planning period and the absolute best wedding party ever!
---
In the next episode, we will talk about the best moment to start planning the music and entertainment for your big day.
---
About the author
Alexander is a DJ and entrepreneur of Dutch origin, living in Spain since 2015. He is the founder and owner of MOOOV Event Services, a premium DJ and entertainment service.
Being located near Marbella at the Costa del Sol in Andalucia, MOOOV Event Services is specialized in international destination weddings in Spain. With a broad network of wedding planners, venues, musicians, DJs and suppliers, MOOOV Event Services offers high-quality services to cater to any kind of wedding from exclusive boutique weddings to high-profile luxury weddings with hundreds of guests.
MOOOV Event Services is known for its signature DJ shows. The beautiful all-white DJ shows have a stylish, premium appearance. Perfect for weddings. We offer live musicians and artists as well as many add-ons like starlit dance floors and lighting effects.
MOOOV Event Services works with protocols and professional planning tools to guarantee a worry-free preparation and execution of the wedding party.
We take pride in creating a high level of confidence between us and our clients and we go the extra mile to ensure that you will have a most satisfactory experience with us.
Are you planning a wedding in Spain? Then you might be interested in receiving a bespoke non-committal quotation? Just click here and you'll receive one within 24 hours.