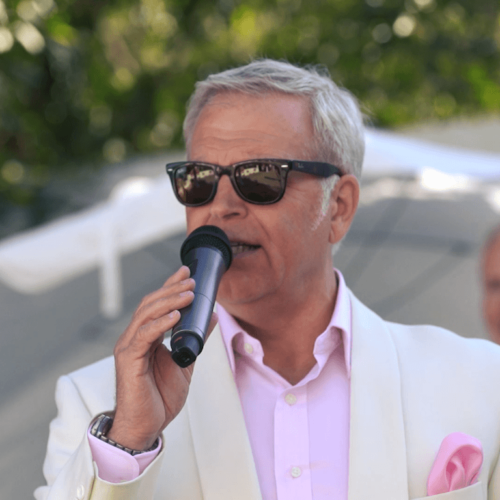 Male singer

Characteristics: classy, warm personality, entertaining,

Styles: jazz, swing, American Songbook, soul, blues.

Suitable for: cocktail receptions, (gala) dinners, high-society parties.
The Campbell Bass Experience
The Campbell Bass experience delivers a NEW exciting style of musical entertainment, creating the perfect ambience and targeting the discerning audience who know what they love to hear.
In collaboration with the very talented saxophonist Robbie Vans and the ever popular international DJ, DJ ALEX; Campbell Bass breaks down boundaries as he and his amigos perform a potent mix of timeless songs. Each performance flows with energy, encompassing a cool jazz and soulful swing as well as vibrant dance classics.
Retaining the high standards that Campbell Bass is renowned for, this is not your regular three sets over dinner; this is a trio with a difference, with a provocative intent to get you in the mood to party or just kick back and relax whilst you digest this musical journey.
Let there be music!
The journey starts with Robbie Vans and DJ ALEX and classic summer sounds. With Robbie's warming saxophone and ALEX'S mixing technique, expect to be eased into a cool groove.
And there was music!
Next up, the Campbell Bass experience switches things up a gear. Performing an eclectic mix of breathtaking songs from past to present and with some of his own unique arrangements, you will be transfixed by his pure soulful emotion and sincere delivery of song.
Have a listen here for an impression of Campbell Bass' repertoire.
Bio
Born in sixties Nottingham, Campbell started singing with his school and church choirs and was exposed to a musical revolution that continued into the 70's.
As his parents listened to those amazing singers such as Bing Crosby, Frank Sinatra and Ella Fitzgerald, his two older siblings had wider musical tastes ranging from The Rolling Stones, The Who, The Stylistics, Barry White, George Benson and Gladys Knight, (the latter being his favorite female artist) it was these famous artists along with the great lyricists, Cole Porter, Jerome Kern, George Gershwin, Sam Cooke and Stevie Wonder, that had a huge influence on his vocal style helping him to flourish as singer.
Performing in local theatre and two local bands, he travelled all over the Midlands playing local bars and nightclubs.
In 2004 he has gone on to record a number of albums and has worked alongside the Prague Symphony Orchestra, Tony Hadley and Beverly Knight, and enjoyed guest spots on BBC, Smooth, Gem106 and Capital FM radio. Performances have also taken him around the UK, Europe and America where he played at many high quality venues like:
Penny Hill Park Hotel *****
Stapleford Park Hotel *****
Silverstone Race Circuit
Lawn Tennis Association
World famous RAC Club, Pall Mall, London
Cafe De Paris, London
Teatro Principal, Menorca
Leicester City Football Club (Squad Christmas Party)
During this time, he has developed a sophisticated vibe that draws his audiences into his performances as they listen to him sing not just those timeless American Song Book classics, but his own contemporary arrangements of modern music that he delivers with great conviction and belief.
Interested in booking Campbell Bass?